Odoo Omnichannel Sales Solutions Drive Unexpected Revenue!
​
Odoo provides a sales forecast that guides you to the right decision. You can identify the best-selling products using past data and current information. Any upcoming production packs will be optimized as a result. To create a more personalized product, the software considers customer preferences and feedback.

Manage Your Customer Interactions Perfectly Using CRM
---
Odoo Sales is an integrated software solution that helps you with sales agent management. Additionally, it assists your team in organizing their follow-ups and actions required to be taken with leads. This creates a loss-free environment that makes every deal a win. The solution guides the business through numerous functions.
Capture leads from various sources
Assign leads to salespeople
Customize business sales pipeline
Manage customer data
Automate repetitive tasks
Provide sales reports and analytics
Create Professional Quotations That Close Deals Seamlessly
---
Expressing interest from a potential client in a product or a service could be useless without the right quotation. Odoo Sales gives you the opportunity to develop a clear and compelling quote that optimizes the management and closure of every deal. Once the client has accepted the quotation, you can easily convert it into a purchase order.
Record all details related to the product or service; pricing, taxes, discounts, and terms and conditions

Follow up on the quotation with the client to check its status, either accepted or rejected

Issue invoices and track payment status, supporting multiple methods and currencies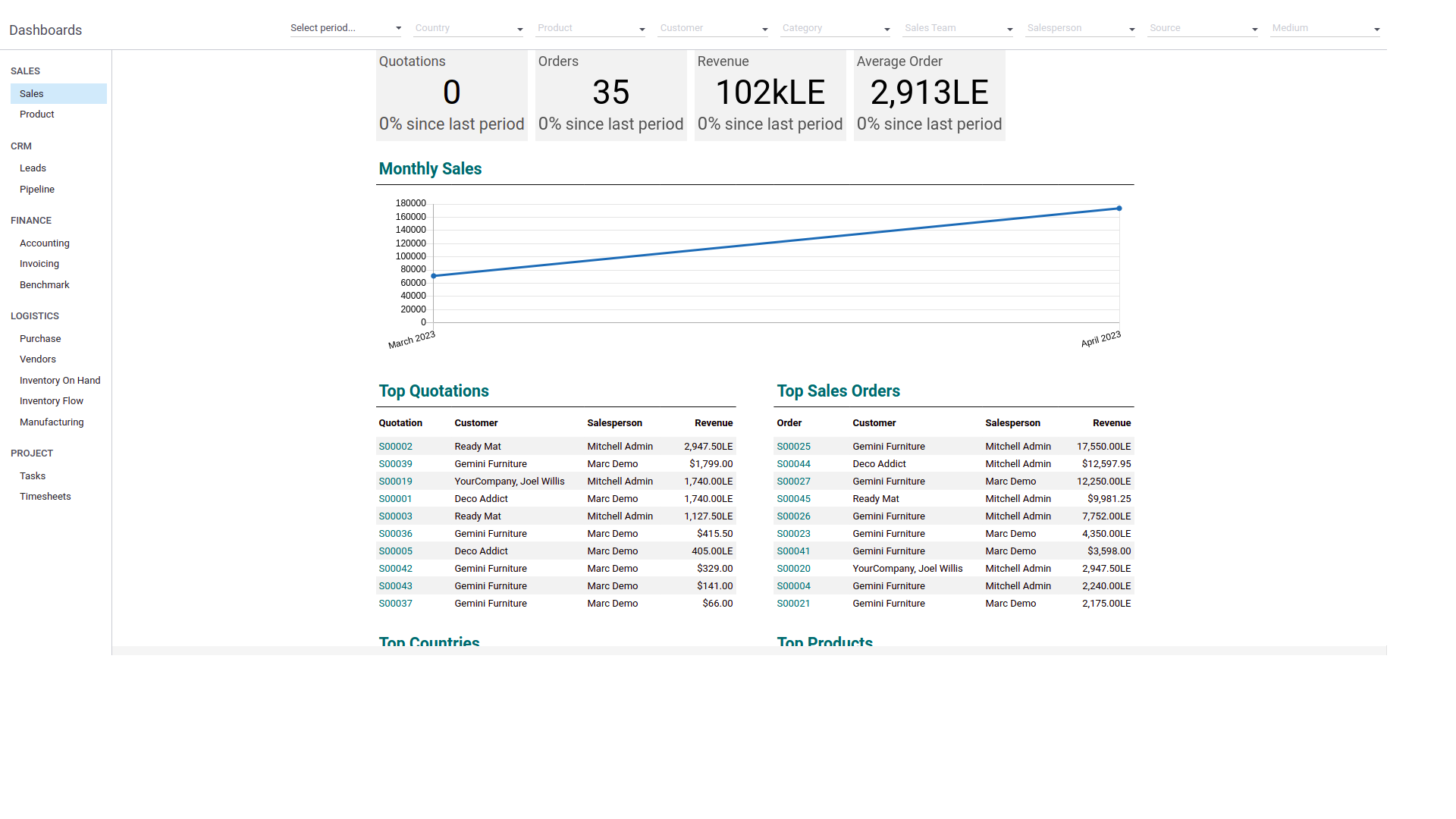 Retail Operations Perform Better With Efficient POS
---
Like any other business or megastore, it needs to get full control of its products! Now, managing pricing, stock levels, and product variants is easier. This module simplifies the integration of Odoo Sales with modules, such as inventory and customer relationship management (CRM). You can customize your own dashboard that monitors your business reports to be suitable for its needs.
Manage your products based on categories and know the best-selling
Better handling of transactions and data recording with the help of a system that supports barcode scanning and receipt printing


Provide Secure and Fast Purchases to Customers By E-commerce
---
Using a fully-integrated e-commerce platform, you can effectively sell your products and services. Odoo Sales offers a customizable storefront that develops a distinctive experience for your customers. With the help of no-code templates, your customers will enjoy the best online shopping journey.
Use a highly scalable e-commerce platform that supports businesses; small startups and large enterprises
Sell through every available channel; website, social media, and online marketplaces
Manage online orders within the same system. You can track order processing, delivery, invoicing, and order status in real-time